Meet Our Therapists
Mano Feliciano
PT, DPT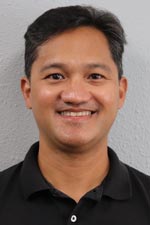 Jose Manulete Feliciano III, known to his friends as Mano, has practiced physical therapy for 19 years. He graduated with a B.S. in Physical Therapy in 1997 and received his doctorate from Benedictine College of New York in 2014. Mano started in outpatient orthopedics, sports, and neurology, then moved to geriatric therapy, but he has always kept in touch with outpatient orthopedics throughout his career. He regularly attends continuing education seminars to hone his skills and to stay on track with current techniques and procedures in therapy such as McKenzie Technique, NDT, and strength and conditioning.
Mano is a proud and happy father of two lovely daughters and has been married to Dinah, also a physical therapist, for 18 years.
He loves the outdoors and prefers to be in the water on his outrigger canoe. His longest race was the Catalina challenge from Catalina Island to Newport Harbor.
Christine Danh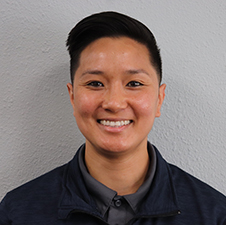 Christine Danh was borned in San Jose, CA and moved to San Diego in 2009 while serving in the United States Navy as an aircraft mechanic in North Island. She graduated with a B.S in Kinesiology with emphasis in Physical Therapy from San Diego State University and received her doctorate from University of St. Augustine in San Marcos. Christine has experience working in the outpatient orthopedic setting with emphasis in post operative care and working with athletes participating in functional fitness, olympic weightlifting, and the traditional barbell athletes.
She has been training in Crossfit and Olympic weightlifting since 2015 and has participated in local competitions around the San Diego area. Christine loves to spend time with her family and two dogs and maintain a healthy lifestyle with regular cycling, running, and strength training.